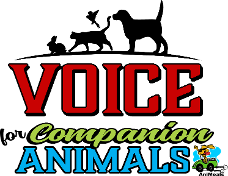 VCA is a 501c(3) non-profit organization where all your donations are tax deductible.
As a pet lover, you know what your pet means to you and your family. Unconditional love, companionship, a cuddle buddy, a protector, a friend and yes, pets are good for our health. They are a valued member of the family.
Now imagine living alone. You've seen much of your life already pass by and because of age or disability, you have limited resources and are unable to leave home like you used to. You can't imagine living without your furry or feathered friend—but still, you worry you won't be able to properly care for them.
Voice for Companion Animals and our AniMeals program is a non-profit organization that provides care for in-home pets because their owners are financially unable to adequately feed and care for their animal.
VCA handles feeding and care, we assist in pet emergencies, and if need be, assist in finding a foster or forever home. All at no cost to the pet owner.