Rescue
VCA also serves as a pet rescue for surrendered pets in Central Nebraska.
VCA serves pet owners who prefer not to send their animal to a shelter and areas in which there is no other option for surrendering a pet. We provide shelter for pets of the elderly who can no longer care for their pet or who have passed away. Often, we're the first call when pets are surrendered to veterinarians in the area. VCA provides the same compassion to surrendered pets as companion animals within the home. At no time do we forget that the animals we rescue were someone's pet and treat each soul as such. Our volunteers provide play time and positive human interaction to make their brief stay with VCA as stress free as possible.
VCA does not euthanize an animal for space, for feline leukemia virus or feline immunodeficiency virus, Parvo, ringworm and other maladies that a pet may have. This is a key component to the services we offer when pet owners face the painful decision to give up their pet.
Everyone at VCA is in the compassion business. Compassion for both pets and their owners to make the transition as smooth as possible.
Foster Mom Cinde Hoffman with Gertie
Cinde Hoffman of Grand Island has been a volunteer foster mom for VCA for the past several years. First it was one cat, then two, then several and here's the good part: Cinde is allergic to cats!
Unable to breathe well, Cinde was foster pet free for a while. That is, until she met Gertie, a Yorkshire Terrier at VCA.
It's believed that Gertie was originally rescued from a puppy mill where she was used for breeding. Whether from birth or neglect, Gertie suffers from a number of maladies not the least of which is trouble moving as her front legs criss cross as she walks. She has a number of cysts on her tummy along with other health problems.
If ever there was a dog that needs lots of care, it's Gertie. Happily, her Foster Mom Cinde makes sure Gertie get's everything she needs for the best quality of life she can have. What Gertie gets most from Cinde - is love.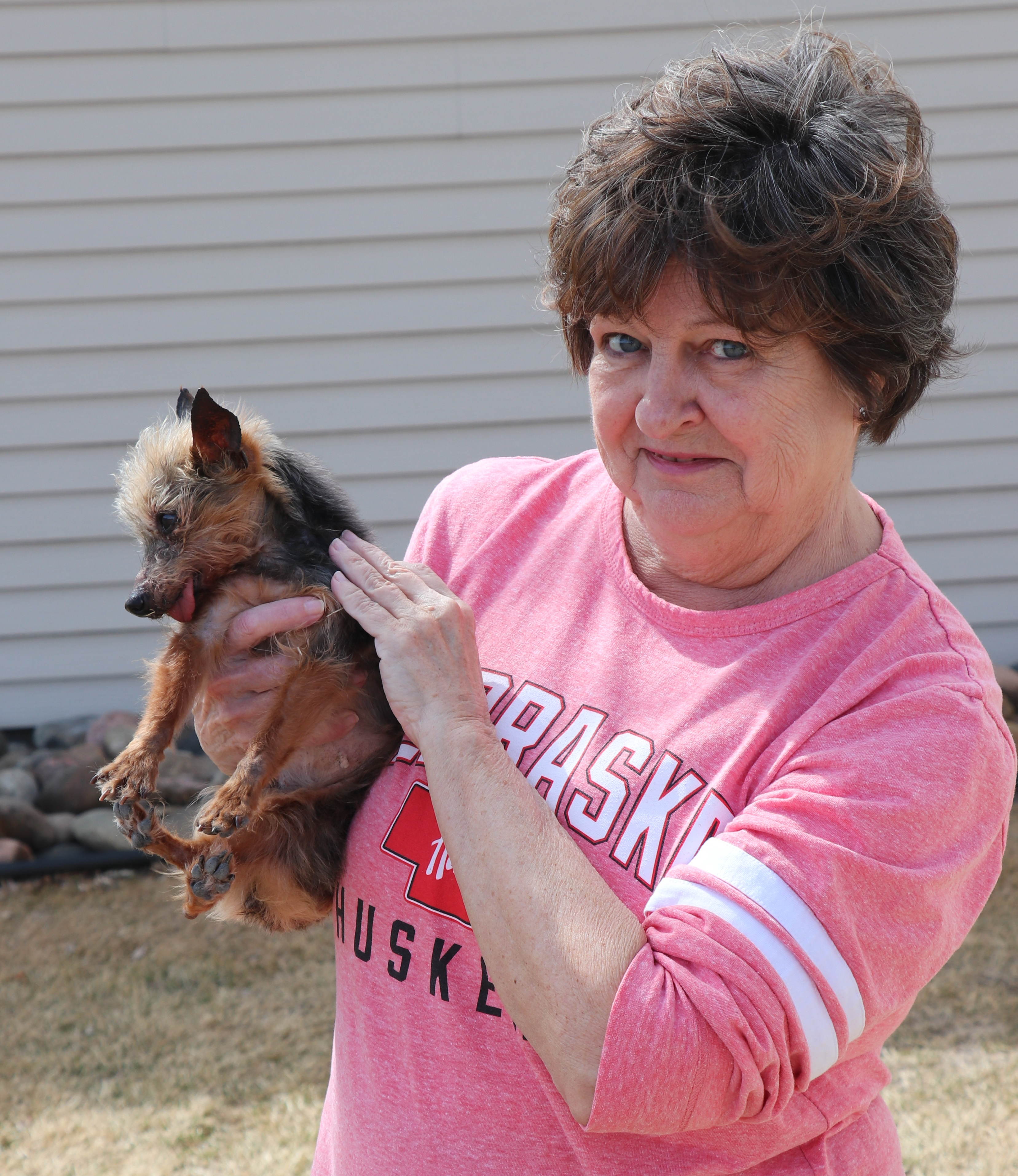 Cinde Hoffman with Gertie