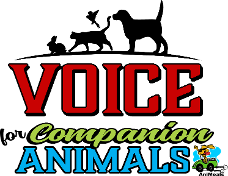 524 South Webb Road
Grand Island, Nebraska 68801
308.675.3445 or 402.527.8228
VCA is a 501c(3) non-profit organization where your donations are tax deductible.
As a pet lover, you know what your pet means to you and your family. Unconditional love, companionship, a cuddle buddy, a protector, a friend and yes, pets are good for our health. They are a valued member of the family.
Now imagine living alone. You've seen much of your life already pass by and because of age or disability, you have limited resources and are unable to leave home like you used to. You can't imagine living without your furry or feathered friend—but still, you worry you won't be able to properly care for them.
This is where VCA comes in.
Voice for Companion Animals and our AniMeals program is a non-profit organization that provides food and supplies for in-home pets because their owners are unable to adequately care for their animal.
VCA assists in pet emergencies, and if need be, assist in finding a foster or forever home. All at no cost to the pet owner.
Because of all the things we do, we are never bashful about asking for a financial or a pet care donation. It is the nourishment that gives companion animals their best chance at survival. It helps keep the pets right where they belong...at home.
Please give today.
Photo: Rita Michka with Oliver, Goldbeck Towers, Hastings